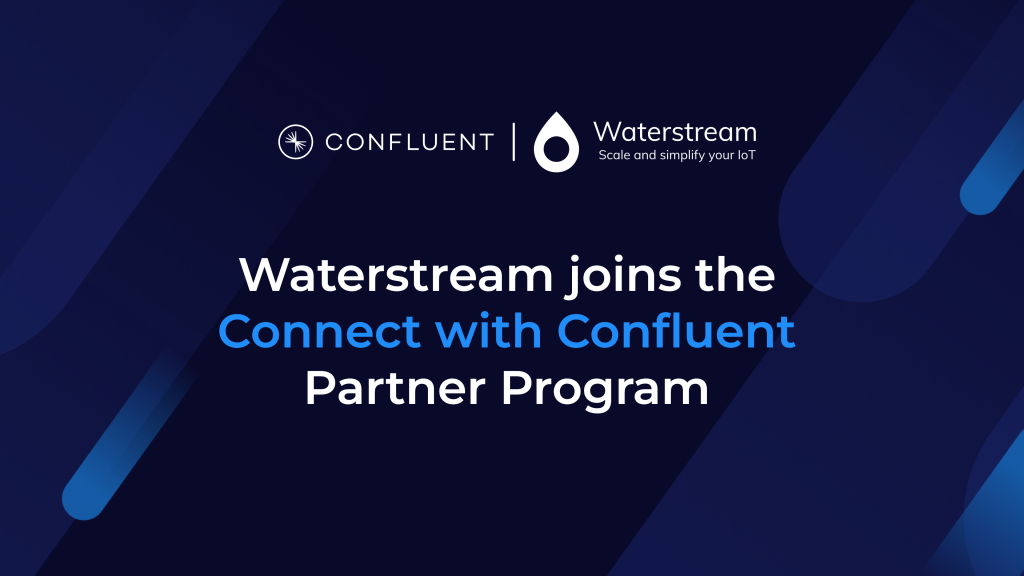 The easiest way to directly integrate data streaming with the Internet of Things (IoT) leveraging the standard MQTT protocol 
[Milan] – July 18, 2023 – Waterstream today announced it has joined the Connect with Confluent partner program. This new program helps organizations accelerate the development of real-time applications through a native integration with Confluent Cloud. Organizations now have the best experience for working with data streams within MQTT clients, paving a faster path to powering next generation customer experiences and business operations with real-time data. 
"Joining the Connect with Confluent partner program is an exciting milestone for Waterstream. This partnership allows us to directly integrate Waterstream Cloud with Confluent Cloud, opening up endless possibilities for our customers.
By leveraging Confluent Cloud's powerful data streaming platform, we provide a cost  efficient solution to connect millions of MQTT clients to the Apache Kafka® ecosystem with just a few clicks. Waterstream brings exciting new features like replaying MQTT messages on the client or data validation with Confluent's fully managed Schema Registry.
We are thrilled to be a part of the initial launch of this program and we are confident this partnership will deliver great value to customers."
– Paolo Castagna, Strategic and Business Advisor at Waterstream
Connect with Confluent gives organizations direct access to Confluent Cloud, the cloud-native and complete data streaming platform that processes more than an exabyte of data per yearIt's now easier than ever for organizations to stream data from anywhere with MQTT clients like cars, smart bands, scooters or even browsers with a fully managed Kafka service that spans hybrid, multi-cloud, and on-premises environments. Moreover, the program supercharges partners' go-to-market efforts with access to Confluent engineering, sales, and marketing resources. This ensures customer success at every stage from onboarding through technical support. 
"Data streaming is now a critical business requirement as companies shift toward a digital-first approach to everything," said Paul Mac Farland, vice president, partner and innovation ecosystem, Confluent. "However, many companies don't have the resources needed to successfully bring a complete set of data streaming capabilities to their applications and end users. Connect with Confluent solves this problem, helping Confluent technology partners accelerate their customers' data-driven ambitions so they can win in the modern digital era." 
Get started with Waterstream.
The easiest way to get started with using Waterstream is with Waterstream Cloud, with Waterstream Cloud you can create an MQTT Broker connected with Confluent and Kafka data streams with just a few clicks. If you prefer a self-managed approach with greater control and flexibility, Waterstream also provides this option. To get started with the self-managed solution, follow this link.
About Waterstream
Waterstream is a leading technology company specializing in data streaming solutions. Waterstream innovative MQTT Broker expands the Kafka ecosystem with IoT use cases, supporting the most popular IoT protocol with simple and efficient integration. Waterstream is available on edge, on-prem, public and private clouds, and as a fully managed solution with Waterstream Cloud.
Waterstream has formed a strategic partnership with Confluent, the creators of Apache Kafka, to leverage the power of Confluent Cloud. This integration combines the most popular streaming platform with MQTT allowing businesses to process and analyze real-time data seamlessly from any device.
Waterstream has received investment and support from CDP Venture Capital and Digital Magics. These partnerships provide Waterstream with resources and expertise to continue to enhance and evolve its platform.